A Dream Vision Made of Chrome & Glass
Chrome, light and glass cloak the latest jukebox technology. An icon of the 50's and 60's is gloriously recreated.
The Wurlitzer Classic 2100 – a real eye catcher anywhere !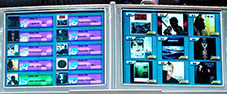 Presentation of the titles and CD covers on
2 flat screens. Selection by means of button.
Selection and search options: TOP, GENRE,
NEW, NAME (of the singer), ZOOM
(enlarged view of the CD cover).
Extensive service program with easy on-screen
menu guide. Easy scanning of CD covers.